International Meetings 2022
The 17th edition of AFCOME's International Meetings
will take place
at the Palais Beaumont Congress center in PAU
from 2 to 4 November 2022.
It is with great pleasure that we invite you to this major event of the profession which will opportunity for French and foreign actors of the plant nutrition sector to meet and exchange.
We hope to see many of you again for this edition !
PROVISIONEL PROGRAM OF THE 17th EDITION
Wednesday, November 2nd 2022 : 
Welcome cocktail from 6pm to 8pm
Reception and registration of participants, exhibition access
Thursday, November 3rd 2022 :
Agronomy, Innovation and Regulatory session
Environmental issues of the Green Deal and food sovereignty,
how to conciliate both?
Agricultural soils, source and sink for greenhouse gas
Labelling farms for a more virtuous carbon balance
A certified method for measuring carbon sequestration in soils
Example of a production of nitrogen fertiliser with Green Ammonia label
International session
Geopolitics of raw materials and agricultural production: the challenges for Europe
Natural gas: Structuring and perspectives for the European market
Poland: Organisation of the fertiliser market and evolution of practices and consumption
Brazil: Another agro-economic model, dependence and adaptation to the international fertiliser market
Friday, November 4th 2022:
Economy session
Supply and demand trends on the international market
Structural and economic evolutions on Nitrogen market
Structural and economic evolutions on Phosphorus market
Structural and economic evolutions on Potash market
The International Meetings' inscription includes :
The welcome cocktail on Wednesday evening
The access to the conferences and the exhibitor area for the entire duration of the conference

The coffee breaks on Thursday and Friday morning

The lunches on Thursday and Friday noon
The Gala dinner on Thursday evening
The acts of the International Meetings
Rates for AFCOME's 2022 International Meetings :  
– 10% discount starting at 3 participants from the same company
Accompanying person only at the Gala evening on Thursday 4 November : €100                                          
The registration will only be considered definitive once we have received your payment. 
Payment can be made by credit card or bank transfer (all charges paid by sender).
If you wish to register, click below :
⇒  Registrations will close on 19 October 2022 
Conditions for cancellation of registrations : All requests for cancellation must be sent to AFCOME by e-mail to ri-afcome@afcome.org. Cancellations submitted after 31 August 2022 will not be eligible for a refund.
You can, if you wish, have yourself replaced.
Access to the Palais Beaumont may be modified according to the evolution of regulations related to the health context.
Cancellations and modifications : AFCOME may have to modify the program's content and the timetable of the AFCOME 2022 International Meetings. These modifications do not entail any exchange or refund. If the International Meetings are interrupted, the registration fees received will be refunded in full to the client, without AFCOME being held liable for any damage directly or indirectly related to the cancellation.
Insurance and liability : AFCOME cannot be held responsible for the interruption or cancellation of the AFCOME 2022 International Meetings due to external political, social, economic or public health events or other events beyond their control (force majeure).
In the event of cancellation, the cancellation conditions of the AFCOME 2022 International Meetings will apply.
Registration for the AFCOME 2022 International Meetings implies full acceptance of its cancellation conditions. It is recommended that participants obtain adequate insurance coverage for their trip (health, accident, repatriation, cancellation) before leaving.
AFCOME does not accept any responsibility for accidents caused by or to participants and accompanying persons during or following the AFCOME 2022 International Meetings or during any of the events organised around this edition of the International Meetings.
Reminder of participants' obligations with regard to competition rules : AFCOME takes compliance with competition law seriously. The objective of AFCOME's International Meetings is to provide participants with an update of their knowledge of the world fertilizer markets and the technical and regulatory tools related to fertilizers. AFCOME reminds all participants of the need to respect the rules of competition governed by the Consumer Code and monitored by the French Competition Authority. Participants should not have discussions on competition issues, including the examination of individual prices, tariffs or market strategies, nor should they exchange information concerning any other competitive aspect of a company's business. If a participant in this conference attempts to initiate a discussion with other participants on any of the above issues, AFCOME recommends that the other participants immediately terminate the conversation and act in accordance with applicable competition rules.
Palais Beaumont Congress center – Allée Alfred de Musset – 64000 PAU
The Accommodation expenses are athe participant's charge.
You can click on this following link to find all the accommodations available for these dates and book directly online with a special rate.
How to get there :
      Connection through PAU PYRÉNÉES Airport
      Connection through Paris-Montparnasse, Bordeaux, Toulouse, Nice,                            Genève…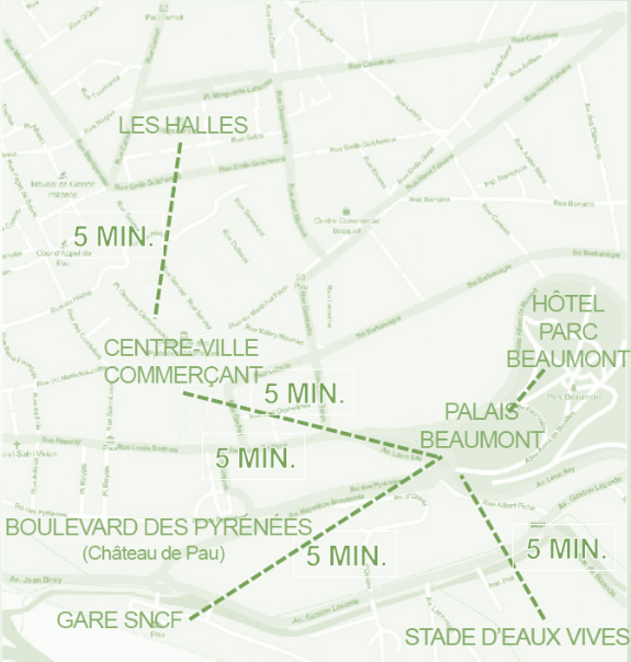 The exhibition is a highly appreciated information resource for the participants. In order to optimise the visibility of exhibitors, breaks and lunches will be held in the exhibition area. Also, exhibitors' logos and contact details will be displayed on this page.
Take advantage of the International Meetings to promote your products and services and do not hesitate to ask us about the booking conditions of booths at ri-afcome@afcome.org.
Meeting room : We gracefully provide the participants with a room for work meetings. Please contact us for the meeting room booking schedule.